This site is owned and operated by LSMC
(Landsort Maritime and Environmental Center)

This website presents the local business companies, associations,
at Landsort, and some history, and a little curiosity about Landsort.

Landsort is a wonderful island to visit all year round. Here are the open sea, beautiful cliffs around the island, the picturesque village with the characteristic lighthouse nearby.


The lighthouse and pilot station called Landsort, the island's name is Öja, in daily speech also called Landsort.

Landsort offers many different activities
Rent rooms at the former pilot outlook (Bed & Breakfast and restaurant).
Or at the youth hostel located in the renovated former military barracks.

Bird watching, visiting the bird station, botany and zoology, fisheries, in the summer you can take a bath or just lie and sunbathe on the warm smooth rocks.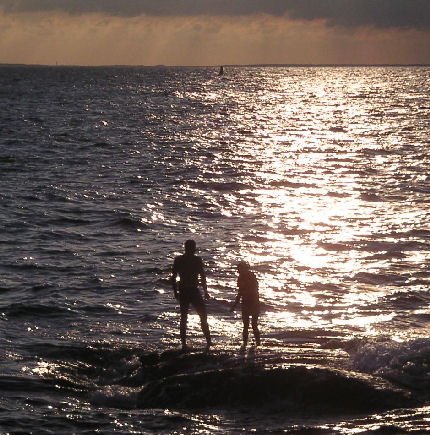 Sunset in the west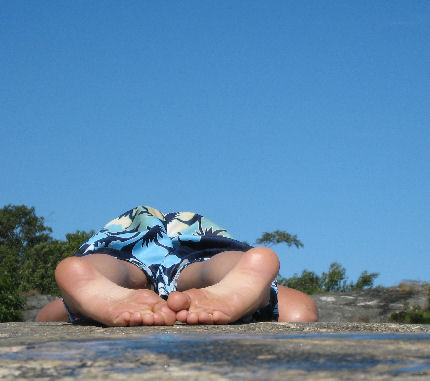 Relax on the sun heated rocks

Walk along the gravel road that runs between north and south, or why not walk on the cliffs, and explore the beaches.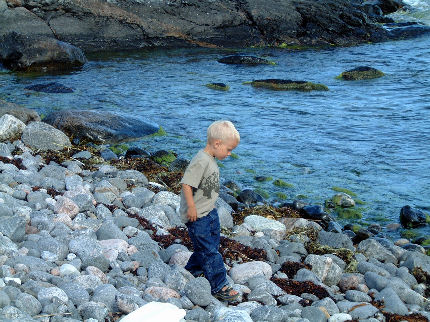 Looking flotsam at Ålkobbsedets beach.

Visit the archipelago's largest lighthouse, including old artillery in the vicinity.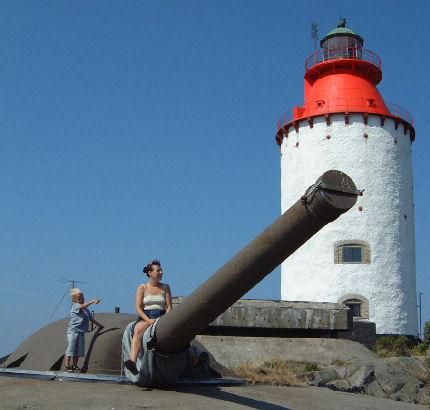 One of the artillery pieces mod.15, 2/98B located on the south of the island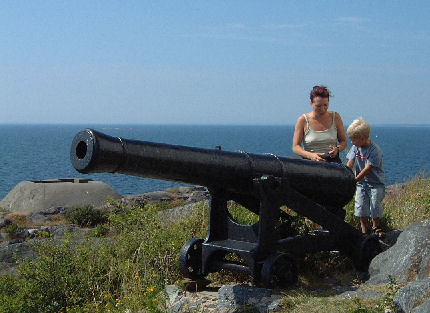 Former mist signal cannon

Behold the barren of INLAND ICE-shaped rocks and cliffs in all its forms, one of Sweden's biggest pothole is in the northeast.

Visit plague cemetery, and especially the island's chapel, which opened in 1939, and other historic sites such as the magical labyrinth.
On the northern part of the island is a marina with: showers, laundry, cabins for rent, small shop and bicycles for rent.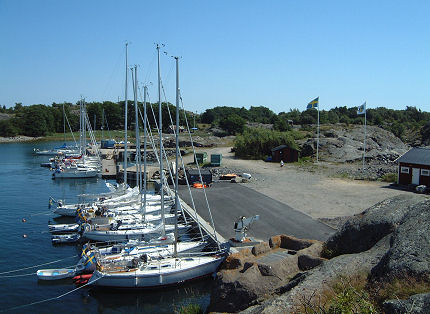 Guest harbor in the north port Norrhamn (Skravleviken)

Art exhibition both outdoors and indoors during the summer.
Christmas market is held in early December.
Pub and café are offered during the summer in Västerhamn
(pilotboat port).

More about Landsort, click on the menu "About Landsort".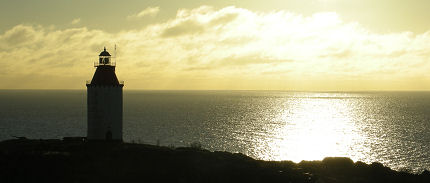 Communications





Scheduled passenger ships to and from Landsort with a local subcontractor to Waxholmsbolaget (Landsortstrafiken AB).

Landsortstrafiken AB operating the line of passenger ships M/s Stångskaer and M/s Tuva

Ankarudden - Krokskär - Landsort year round, all trips to and from the island fits bus and commuter trains to and from Stockholm.

The journey between Ankarudden and Landsort costs:
93 SEK for adults,
62 SEK for pensioners, and children between 7 and 20 years.
Rate applies to single ticket.

A paid parking is available at Ankarudden (Herrhamra brygga), payment by credit card or SMS.
Visit Landsort by own boat.
Marina in the north port (Skravleviken or Norrhamn).

There are two additional ports, one on the east side that can be used if space is available and weather permitting, and on the west side, but it is closed to visitors (Pilot port).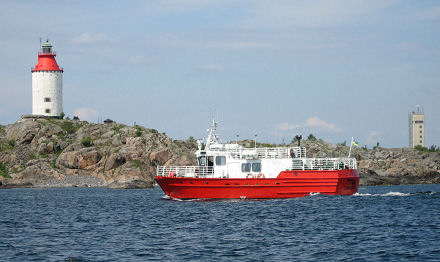 M/s Tuva south of Landsort lighthouse and the former pilotage outlook.
Country road 73 to Nynäshamn, before arrival to Nynäshamn, turn right towards Nynäshamn N, Herrhamra. After 300 meters, turn right to Herrhamra, then it's just straight on to Ankarudden, about 15 km. Overall length is about 70 km.

From Södertälje:
Country road 225 to Nynäshamn, about 1,3 km after Sorunda, continue straight ahead towards Stora Vika, after further 3,3 km the road divides, keep to the left against Stora Vika, Nynäshamn. Then after 9 km turn right to Herrhamra, then it's straight on to Ankarudden. Overall length is about 63 km.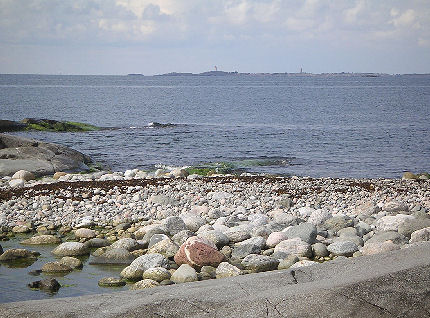 Landsort from a distance, view from the Yttre Karvasen